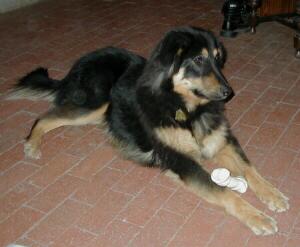 Lionel
2000-2012
BIG
Our Head of Security: Lionel Trainwreck Puppypuppypuppy
Beloved Lionel was a half border collie who was born on December 26, 2000 and came to live with us on February 24, 2001. Lionel loved to play tug-of-war better than anything else in the world, but chewing up sticks was a close second in his affections. No stuffed toy was ever safe, since once he'd chewed on one long enough to discover that it had stuffing inside, all the stuffing must immediately be removed.
Lionel's border collie heritage mades him a serious-minded dog, and he always had a list of Things That Need Barking At. He worried about all kinds of things, but he and Butterfly took obedience classes at Sandia Dog Obedience Club to help him meet other people and dogs, get over his shyness, and learn to let his pack leaders do the worrying. Lionel was our special boy - he left us too soon and we miss him terribly.